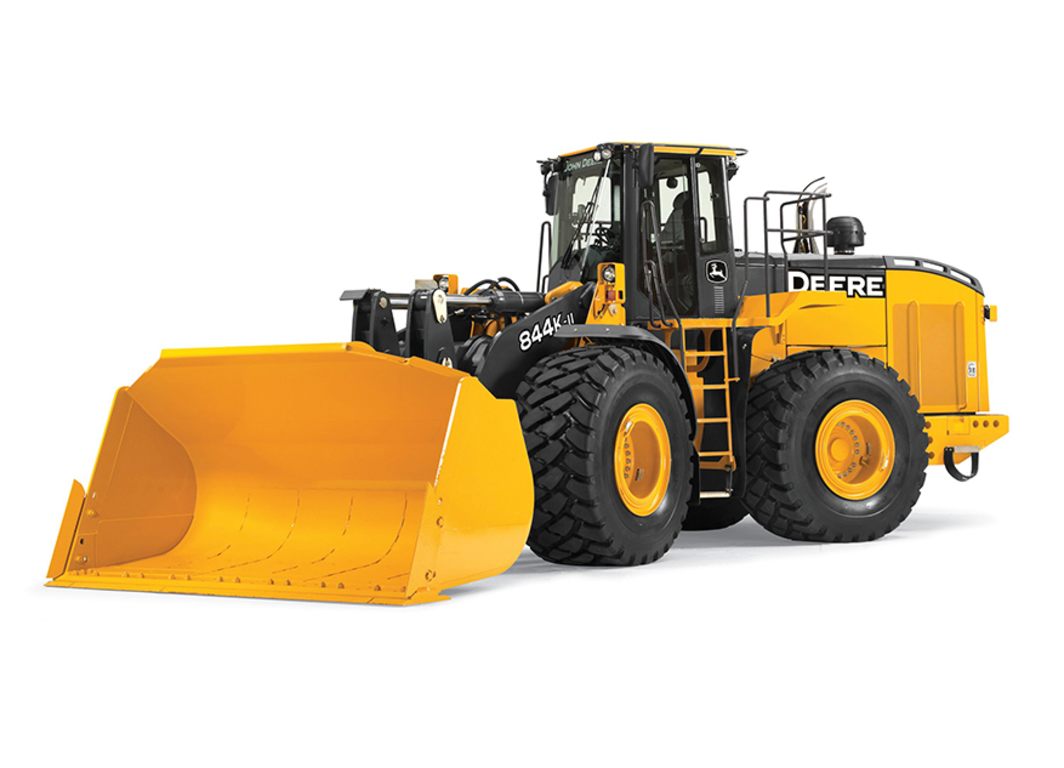 Features
Engine
Our FT4/Stage IV diesels employ field-proven cooled exhaust gas recirculation (EGR), easy-to-maintain high-uptime exhaust filters, and selective catalytic reduction (SCR).
Hydraulics
Increased hydraulic forces, engine power, and torque make quicker work of tough aggregate piles.
Hydraulic plumbing has been improved and articulation-joint and linkage pins enlarged to help boost productivity.
Bulkhead fittings eliminate long hoses, simplifying replacement and component exchange.
Hydraulic tank is positioned behind the cab for easy access, and hoses have been routed away from other vital operating components, for longer wear life.
Productivity
Bigger material-handling buckets reduce fill time in processed aggregates, better retain loads, and ultimately conserve fuel.
Low center of gravity and optimized fore-and-aft balance deliver solid stability and full-turn tipping-load capacities.
Transmission shift logic and programmable clutch cutoff have been improved, for increased productivity in a variety of conditions.
Serviceability and Uptime
Quad-Cool design places coolers in a unique boxed configuration that's isolated from engine heat, for increased efficiency and durability.
Standard hydraulic reversing fan automatically reverses at predetermined intervals, or can be programmed through the monitor to eject debris from the cooler cores.
Color-coded fluid-sample and diagnostic test ports help speed preventative maintenance and troubleshooting.
Controls
With larger material-handling buckets, the aggregate handling option can load out 24 to 26 short tons of non-heaping, lower-density processed matter in just two passes. With heavier materials, achieving 12 to 13 tons is not a problem.
Spec the low-profile tire option to increase traction, flotation and stability.
New slip-resistant plates at the rear of the machine enable more sure-footed grip.
Slip-resistant steps, platforms, and handrails provide uninterrupted three-point access.
| MODEL | HP | BREAKOUT FORCE (LBS.) | STATIC TIPPING WEIGHT (LBS.) | BUCKET CAPACITY (CU. YDS.) | DUMP CLEARANCE HEIGHT (FT.) | WEIGHT (LBS.) |
| --- | --- | --- | --- | --- | --- | --- |
| WA100 / JD244 | 64 | 16,298 | 10,714 | 1.4 | 8'4" | 12,060 |
| JD344 | 97 | 13,490 | 13,889 | 2.2 | 9'4" | 18,408 |
| WA200 / JD444 | 124 | 20,952 | 17,482 | 2.5 | 9'11" | 24,698 |
| WA270 / JD544 | 163 | 28,101 | 22,068 | 3.0 | 10'5" | 28,660 |
| WA320 / JD624 | 186 | 27,600 | 25,198 | 3.5 | 10'7" | 34,124 |
| WA380 / JD644 | 232 | 37,073 | 27,181 | 4.25 | 10'11" | 41,188 |
| WA450 / JD744 | 273 | 43,160 | 39,860 | 5.5 | 10'5" | 50,080 |
| WA500 / JD844 | 377 | 55,115 | 52,030 | 6.5-8.5 | 10'11" | 75,413 |