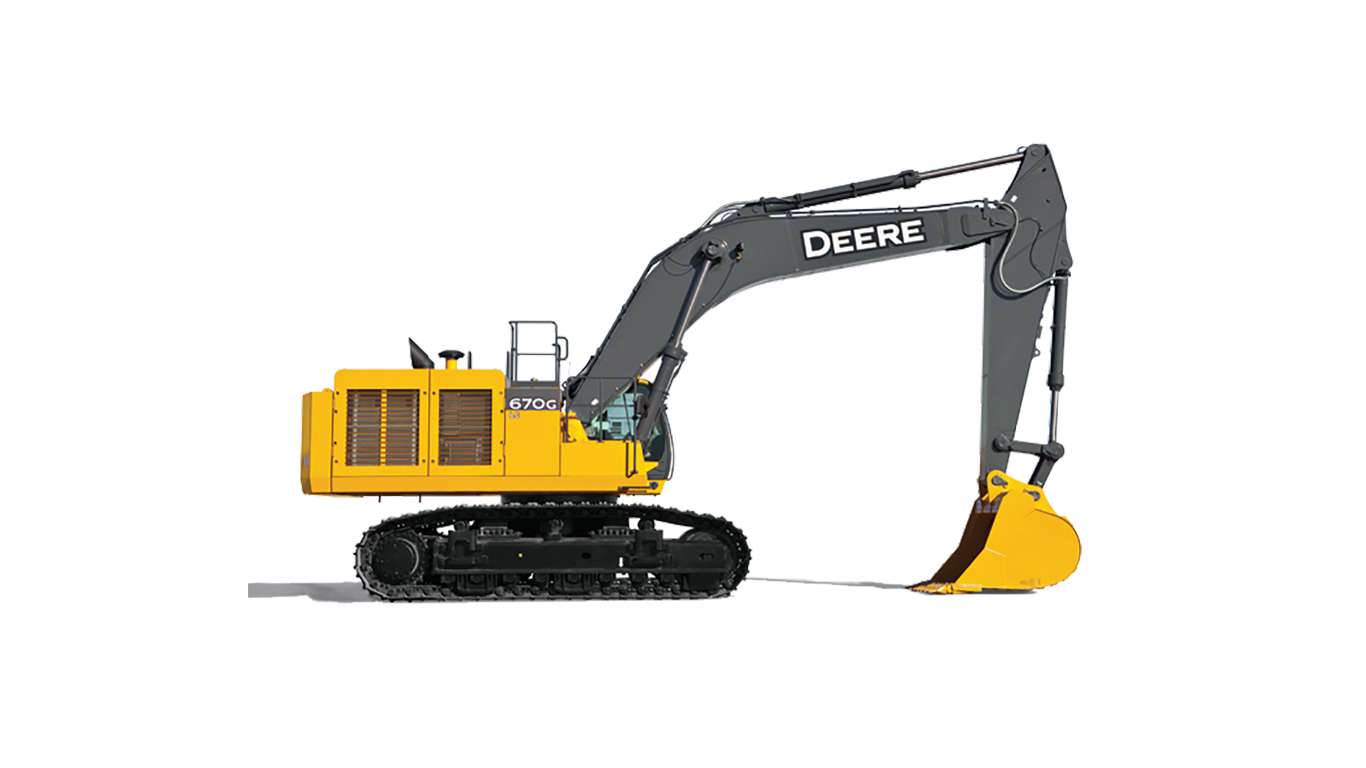 Features
Engine
The EPA FT4/EU Stage IV engine employs field-proven cooled exhaust gas recirculation (EGR), a diesel oxidation catalyst (DOC), and selective catalytic reduction (SCR).
Improved piston design allows particulate matter to be burned in the cylinder, so there's no need for a diesel particulate filter (DPF), saving service time and lowering operating costs.
Auto-idle automatically reduces engine speed when hydraulics aren't in use. Auto shutdown further preserves precious fuel.
Controls
Ergonomically correct short-throw pilot levers provide smooth, predictable fingertip control with less movement and effort.
Push buttons in the right lever allow predictable control of auxiliary hydraulic flow for operating attachments. Optional sliding switch provides proportional speed control.
Press the power-boost button on the right-hand control for extra digging power. Power boost also kicks in automatically in boom-up/lifting functions.
Productivity
Generous flow, arm force, and swing torque help speed cycles. So you can do your best to stay on schedule or ahead of the weather.
Three productivity modes allow you to choose the digging style that fits the job:
High-productivity delivers more power and faster hydraulic response to move more material.
Power delivers a balance of power, speed, and fuel economy for normal operation.
Economy limits top speed and helps save fuel.
Visibility
Wide expanse of front and side glass, narrow front cab posts, large overhead glass, and numerous mirrors provide virtually unobstructed all-around visibility.
Serviceability
Standard John Deere walks allow for easy cab-level machine access, with points of contact all around.
Diesel exhaust fluid (DEF) can be conveniently filled when refueling due to its large and accessible tank.
Large fuel tanks and 500-4,000-hour engine and hydraulic oil-service intervals decrease downtime for routine maintenance.
Arm & Boom
A John Deere exclusive, three welded bulkheads within the boom resist torsional stress for amazing durability.
| MODEL | HP | LIFTING CAPACITY (LBS.) | OPERATING WEIGHT (LBS.) | MAX DIG DEPTH | MAX REACH | WIDTH | BUCKET SIZE (CU. YDS.) | ZERO TAIL |
| --- | --- | --- | --- | --- | --- | --- | --- | --- |
| PC78 / JD75G | 57 | 4,956 | 17,952 | 15'1" | 22'2" | 7'7" | 0.5 | YES |
| PC88 / JD85 | 57 | 6,597 | 19,244 | 14'10" | 24'9" | 7'3" | 0.5 | YES |
| PC130 / JD130 | 98 | 9,600 | 29,009 | 18'2" | 28'5" | 8'6" | 0.75 | NO |
| PC138 / JD135 | 101 | 9,430 | 30,620 | 18'4" | 26'8" | 8'2" | 0.75 | YES |
| PC170 / JD160 | 122 | 15,100 | 39,526 | 19'7" | 30'1" | 8'6" | 1 | NO |
| PC210LC / JD210L | 159 | 21,410 | 50,548 | 21'11" | 32'0" | 10'6" | 1.5 | NO |
| PC238 / JD245 | 159 | 23,500 | 56,170 | 21'9" | 32'6" | 10'6" | 1.5 | YES |
| PC240 | 177 | 18,950 | 56,360 | 22'8" | 32'10" | 10'9" | 1.5 | YES |
| JD300 | 223 | 26,750 | 69,223 | 25'10" | 36'5" | 11'1" | 1.5 | NO |
| JD345 | 245 | 35,500 | 78,710 | 24'10" | 37'7" | 11'1" | 1.5 | YES |
| PC360 / JD350 | 271 | 41,950 | 79,655 | 18'5" | 38'3" | 11'2" | 2.25 | NO |
| PC490 / JD470 | 367 | 42,920 | 112,916 | 27'2" | 40'3" | 11'11" | 3.5 | NO |
| PC650 / JD670 | 463 | 55,260 | 154,103 | 30'0" | 44'8" | 12'3" | 4.0-5.0 | NO |