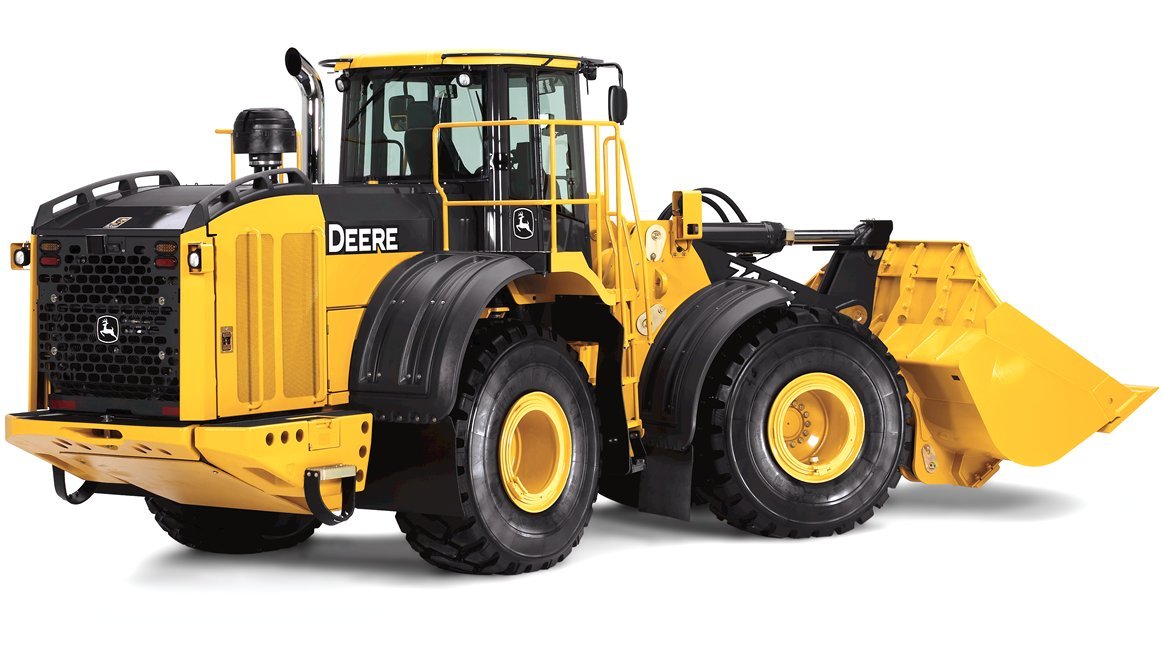 Features
Engine
Our FT4/Stage IV diesels employ field-proven cooled exhaust gas recirculation (EGR), easy- to maintain high-uptime exhaust filters, and selective catalytic reduction (SCR).
Quad-Cool™
Quad-Cool places the radiator, air-conditioner condenser, intercooler, and hydraulic, transmission, and optional axle coolers in a unique boxed configuration that's isolated from engine heat.
Transmission and Axles
Automatic torque-converter PowerShift™ transmission with adjustable clutch cutoff feature improves productivity.
Maintenance
All daily service points, including fuel, are grouped on the left side for quick and convenient ground-level access. Sight gauges enable quick fluid-level checks.
Controls
Choose single-lever joystick or two-lever fingertip pilot-operated hydraulic controls.
Simple, easy-to-use payload weighing, powered by Loadrite™ technology, is integrated into the LCD color monitor and is available factory- or field-installed for Z-Bar and High-Lift machines.
Hydraulics
Our production-class loaders have two hydraulic pumps as part of a closed center and load sensing system.
Safety & Security
Sealed-switch module keeps out dust and moisture while eliminating nearly 100 wires. Prevent unauthorized machine operation with keyless-start requiring a numeric pass code.
Optional rearview camera and radar object-detection system
| MODEL | HP | BREAKOUT FORCE (LBS.) | STATIC TIPPING WEIGHT (LBS.) | BUCKET CAPACITY (CU. YDS.) | DUMP CLEARANCE HEIGHT (FT.) | WEIGHT (LBS.) |
| --- | --- | --- | --- | --- | --- | --- |
| WA100 / JD244 | 64 | 16,298 | 10,714 | 1.4 | 8'4" | 12,060 |
| JD344 | 97 | 13,490 | 13,889 | 2.2 | 9'4" | 18,408 |
| WA200 / JD444 | 124 | 20,952 | 17,482 | 2.5 | 9'11" | 24,698 |
| WA270 / JD544 | 163 | 28,101 | 22,068 | 3.0 | 10'5" | 28,660 |
| WA320 / JD624 | 186 | 27,600 | 25,198 | 3.5 | 10'7" | 34,124 |
| WA380 / JD644 | 232 | 37,073 | 27,181 | 4.25 | 10'11" | 41,188 |
| WA450 / JD744 | 273 | 43,160 | 39,860 | 5.5 | 10'5" | 50,080 |
| WA500 / JD844 | 377 | 55,115 | 52,030 | 6.5-8.5 | 10'11" | 75,413 |