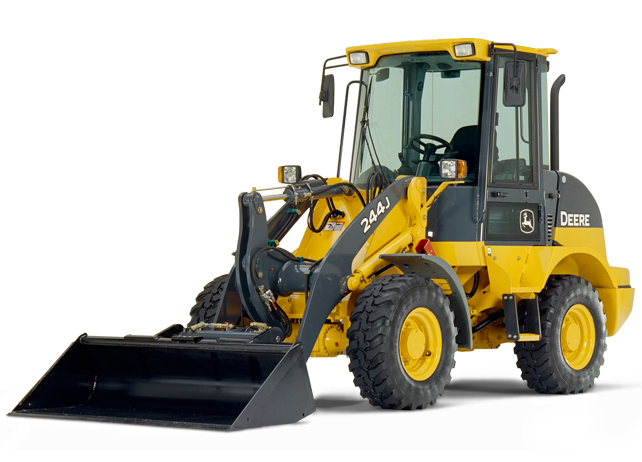 Features
Engine
An EPA Final Tier 4 (FT4)/EU Stage V emission-certified four-cylinder diesel engine helps this compact loader deliver power without compromise.
Industry-Exclusive Articulation Plus™ Steering
Articulation Plus™ Steering System combines 30 degrees of articulation with an additional 10 degrees of rear-wheel steering.
New Loader Arm & Coupler Design
New design improves the lifting path to near parallel – for better load-carrying capability than previous compact loader models.
Quick Standard Speed
With a standard speed of up to 23 mph, the 244L Compact Wheel Loader can make some pretty quick moves on and between jobsites.
| MODEL | HP | BREAKOUT FORCE (LBS.) | STATIC TIPPING WEIGHT (LBS.) | BUCKET CAPACITY (CU. YDS.) | DUMP CLEARANCE HEIGHT (FT.) | WEIGHT (LBS.) |
| --- | --- | --- | --- | --- | --- | --- |
| WA100 / JD244 | 64 | 16,298 | 10,714 | 1.4 | 8'4" | 12,060 |
| JD344 | 97 | 13,490 | 13,889 | 2.2 | 9'4" | 18,408 |
| WA200 / JD444 | 124 | 20,952 | 17,482 | 2.5 | 9'11" | 24,698 |
| WA270 / JD544 | 163 | 28,101 | 22,068 | 3.0 | 10'5" | 28,660 |
| WA320 / JD624 | 186 | 27,600 | 25,198 | 3.5 | 10'7" | 34,124 |
| WA380 / JD644 | 232 | 37,073 | 27,181 | 4.25 | 10'11" | 41,188 |
| WA450 / JD744 | 273 | 43,160 | 39,860 | 5.5 | 10'5" | 50,080 |
| WA500 / JD844 | 377 | 55,115 | 52,030 | 6.5-8.5 | 10'11" | 75,413 |