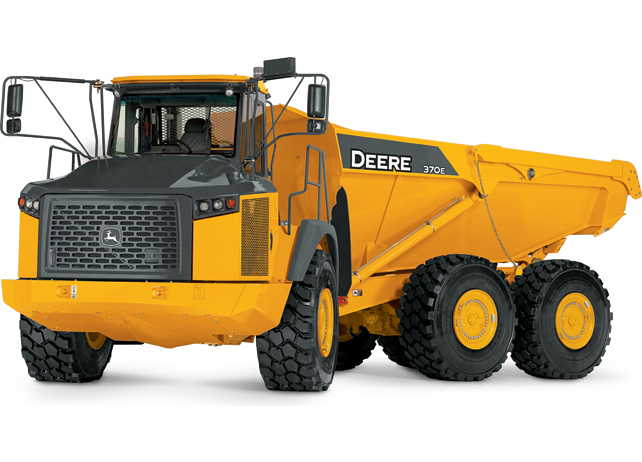 Features
Engine
Employs cooled exhaust gas recirculation (EGR), easily maintained exhaust filters, and selective catalytic reduction (SCR).
Conserve power and fuel with engine, hydraulic, transmission, and service-brake coolers that run only when necessary. Reversible hydraulic-drive fan option back-blows cooler cores minimizing manual cleaning.
Condition-based ash-service intervals for the diesel particulate filter notify operators before service is required.
Onboard weighing system
Optional onboard weighing system displays the payload while loading and even illuminates mirror-mounted load lights to alert the operator and job superintendent when the ADT is nearing capacity. Load tonnage is also accessible through JDLink™, so you can monitor productivity from virtually anywhere.
The system has been factory calibrated to two-percent accuracy when payload exceeds 50 percent.
Cab Comfort
Sealed and pressurized cab keeps out dust and noise.
Larger entryway allows for easier ingress and egress.
Adjustable air-ride seat provides maximum comfort.
Ground-Level Maintenance
Filters, diagnostic ports and hydraulic oil reservoir are easy to access. An industry-leading feature, Deere machines can be checked and serviced daily from the ground, eliminating the need for tie-offs. This is a big advantage on MSHA regulated sites.
Standard Tire Pressure Monitoring
Standard tire pressure/temperature-monitoring system helps maximum tire life and fuel efficiency. A passive alarm appears on monitor if pressure drops by 10 percent.
Auto-diff lock
Traction-boosting auto-diff lock engages and disengages as necessary, simplifying operation. Or it can be engaged on-the-fly if slipping is occurring.
Safety Features
Safety features include autohorn, industry-leading transmission retarding, and braking performance for steep grade control. Easy-to-activate cab tilt doubles as a remote park-brake release (optional).
Mirror Mounting
All-new mirror mounting increases visibility, reduces vibration, and allows walk-through access to the engine compartment.
Dump Body
High-alloy-steel dump body and chassis deliver superior strength and rigidity without adding weight.
| MODEL | HP | OPERATING WEIGHT (LBS.) | CAPACITY (LBS.) | CAPACITY (CU. YDS.) | HEAPED CAPACITY (CU. YDS.) | OVERALL WIDTH (FT.) |
| --- | --- | --- | --- | --- | --- | --- |
| JD250D | 265 | 40,344 | 51,150 | 13.7 | 18 | 9'3" |
| HM300 / JD350D | 285 | 42,990 | 60,186 | 16.5 | 21.7 | 9'7" |
| JD350D | 380 | 61,730 | 71,650 | 19.9 | 26.3 | 12'5" |
| JD370E | 422 | 67,862 | 78,947 | 21.3 | 29.1 | 12"5' |