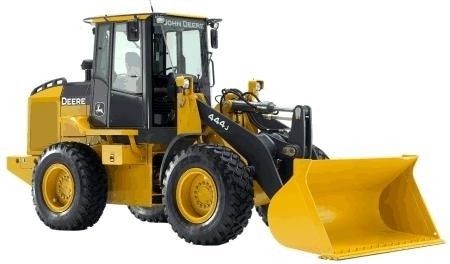 Features
Engine
Our FT4/Stage IV diesels deliver the best combination of performance, efficiency, and reliability. They employ field-proven cooled exhaust gas recirculation (EGR), easy-to-maintain high-uptime exhaust filters, and selective catalytic reduction (SCR).
Quad-Cool™
Quad-Cool places the radiator, air-conditioner condenser, intercooler, and hydraulic, transmission, and optional axle coolers in a unique boxed configuration that's isolated from engine heat.
Optional programmable fan automatically reverses at predetermined intervals, ejecting debris from the radiator and cooler cores. Or set your own cleaning cycles through the monitor.
Transmission and Axles
With ride control, the lift cylinders act as shock absorbers, cushioning bumps to allow these loaders to navigate rough ground more quickly without losing their loads.
Automatic differential lock engages as soon as a tire begins to slip. It's ideal for inexperienced operators or applications requiring high traction, such as stockpiling silage, plowing snow, and handling pipe.
Maintenance
Hinged panel tilts away for quick ground-level access to both the fuel and diesel exhaust fluid (DEF) tanks, making refills convenient and easy.
All daily service points including fuel are grouped on the left side of the machine for quick and convenient access.
Controls
Choose single-lever joystick or two-lever fingertip pilot-operated hydraulic controls.
Linkage
Z-Bar linkages provide high bucket breakout forces, reliable rollback to carry loads without spilling, and solid transport stability. A standard pin-on coupler or an optional hi-vis coupler adds versatility, reduces costs in a variety of applications, enables faster cycle times, and lowers operating weights.
Safety & Security
Sealed-switch module keeps out dust and moisture while eliminating nearly 100 wires.
Prevent unauthorized machine operation with keyless-start requiring a numeric pass code.
| MODEL | HP | BREAKOUT FORCE (LBS.) | STATIC TIPPING WEIGHT (LBS.) | BUCKET CAPACITY (CU. YDS.) | DUMP CLEARANCE HEIGHT (FT.) | WEIGHT (LBS.) |
| --- | --- | --- | --- | --- | --- | --- |
| WA100 / JD244 | 64 | 16,298 | 10,714 | 1.4 | 8'4" | 12,060 |
| JD344 | 97 | 13,490 | 13,889 | 2.2 | 9'4" | 18,408 |
| WA200 / JD444 | 124 | 20,952 | 17,482 | 2.5 | 9'11" | 24,698 |
| WA270 / JD544 | 163 | 28,101 | 22,068 | 3.0 | 10'5" | 28,660 |
| WA320 / JD624 | 186 | 27,600 | 25,198 | 3.5 | 10'7" | 34,124 |
| WA380 / JD644 | 232 | 37,073 | 27,181 | 4.25 | 10'11" | 41,188 |
| WA450 / JD744 | 273 | 43,160 | 39,860 | 5.5 | 10'5" | 50,080 |
| WA500 / JD844 | 377 | 55,115 | 52,030 | 6.5-8.5 | 10'11" | 75,413 |