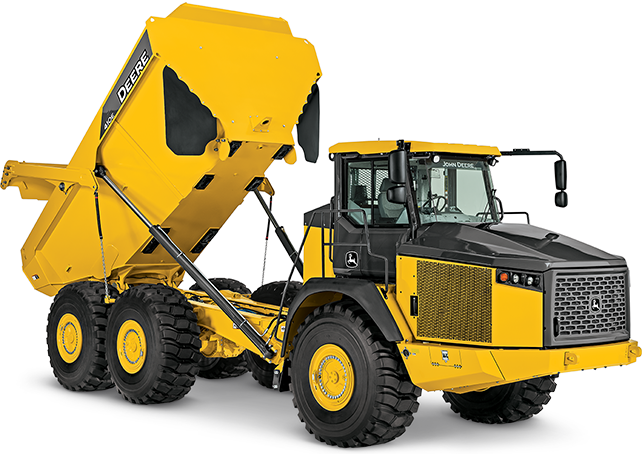 Limited-slip differentials (250D/300D), controlled traction differentials (350D/400D), and transfer case diff lock provide a traction
boost in poor underfoot conditions.
Excellent payload-to-weight ratio means more of your fuel dollars
are spent moving material, not the machine — decreasing your
cost per ton.
Best-in-class transmission retarder slows the truck when the operator backs off the accelerator. For superior braking and increased
service-brake life.
High-pressure common-rail fuel injection (250/300) and electronic
unit injection (350/400) provide high injection pressure even at
low engine speeds for improved cold-weather starting, low-speed
response, and reduced emissions.
Short-sloped front end provides an industry-best approach angle
that allows these ADTs to attack steep terrain.
Inter-axle differential delivers equal torque to each axle on favorable footing. When conditions get ugly, engage the diff locks to
deliver torque to the tires that can best use it.
| MODEL | HP | OPERATING WEIGHT (LBS.) | CAPACITY (LBS.) | CAPACITY (CU. YDS.) | HEAPED CAPACITY (CU. YDS.) | OVERALL WIDTH (FT.) |
| --- | --- | --- | --- | --- | --- | --- |
| JD250D | 265 | 40,344 | 51,150 | 13.7 | 18 | 9'3" |
| HM300 / JD350D | 285 | 42,990 | 60,186 | 16.5 | 21.7 | 9'7" |
| JD350D | 380 | 61,730 | 71,650 | 19.9 | 26.3 | 12'5" |
| JD370E | 422 | 67,862 | 78,947 | 21.3 | 29.1 | 12"5' |