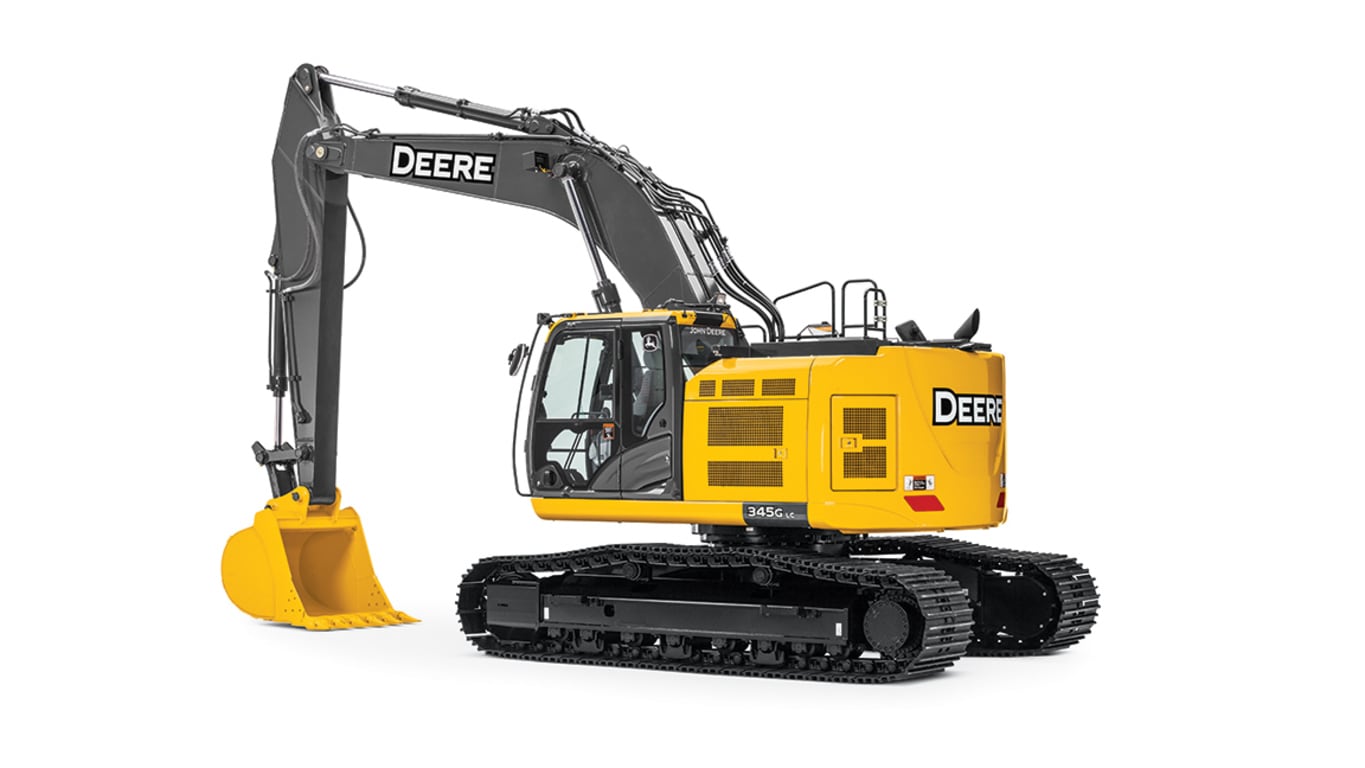 Features
Engine
Turbocharged EPA Final Tier 4 (FT4)/EU Stage IIIB diesel meets rigid emission standards, runs smooth, and packs plenty of power and torque.
Three-Pump Hydraulic System
Three-pump hydraulic system delivers superb hydraulic flow. With one pump dedicated to the swing circuit, hydraulic flow is never compromised – for fast cycle times and smooth multifunction performance.
Full-Size Cab
Ergonomically correct short-throw pilot levers provide predictable, smooth control with less movement or effort.
Push buttons on the right joystick allow fingertip control of auxiliary hydraulic flow for operating attachments.
Productivity
Designed to work in close-quarters, with reduced tail swing, this specialist delivers more reach, lift capacity, digging depth, breakout force, swing torque, and bucket capacity than the model it replaces.
Visibility
See more and do more with a hood design that enables optimal visibility to the sides and rear.
Standard rearview camera expands the view even more, showing the action behind the machine on the front monitor.
Serviceability
Swing open the side panels for quick, convenient, ground-level access to filters and daily service points.
Easily accessible in the rear door behind the cab, the battery-disconnect switch helps extend battery life.
| MODEL | HP | LIFTING CAPACITY (LBS.) | OPERATING WEIGHT (LBS.) | MAX DIG DEPTH | MAX REACH | WIDTH | BUCKET SIZE (CU. YDS.) | ZERO TAIL |
| --- | --- | --- | --- | --- | --- | --- | --- | --- |
| PC78 / JD75G | 57 | 4,956 | 17,952 | 15'1" | 22'2" | 7'7" | 0.5 | YES |
| PC88 / JD85 | 57 | 6,597 | 19,244 | 14'10" | 24'9" | 7'3" | 0.5 | YES |
| PC130 / JD130 | 98 | 9,600 | 29,009 | 18'2" | 28'5" | 8'6" | 0.75 | NO |
| PC138 / JD135 | 101 | 9,430 | 30,620 | 18'4" | 26'8" | 8'2" | 0.75 | YES |
| PC170 / JD160 | 122 | 15,100 | 39,526 | 19'7" | 30'1" | 8'6" | 1 | NO |
| PC210LC / JD210L | 159 | 21,410 | 50,548 | 21'11" | 32'0" | 10'6" | 1.5 | NO |
| PC238 / JD245 | 159 | 23,500 | 56,170 | 21'9" | 32'6" | 10'6" | 1.5 | YES |
| PC240 | 177 | 18,950 | 56,360 | 22'8" | 32'10" | 10'9" | 1.5 | YES |
| JD300 | 223 | 26,750 | 69,223 | 25'10" | 36'5" | 11'1" | 1.5 | NO |
| JD345 | 245 | 35,500 | 78,710 | 24'10" | 37'7" | 11'1" | 1.5 | YES |
| PC360 / JD350 | 271 | 41,950 | 79,655 | 18'5" | 38'3" | 11'2" | 2.25 | NO |
| PC490 / JD470 | 367 | 42,920 | 112,916 | 27'2" | 40'3" | 11'11" | 3.5 | NO |
| PC650 / JD670 | 463 | 55,260 | 154,103 | 30'0" | 44'8" | 12'3" | 4.0-5.0 | NO |