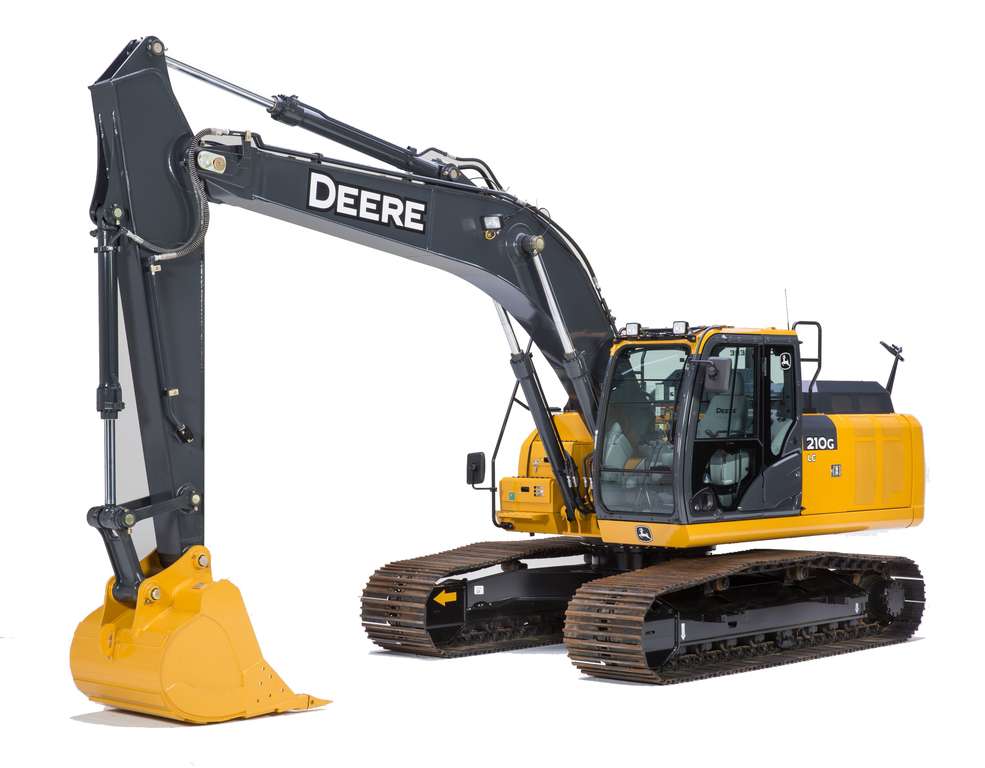 Features
Fully-Integrated & Dependable Grade Guidance Option
Whether you are digging trench for pipe, shaping ditches or slopes, or digging structural foundations, Grade Guidance will help you complete your precision-excavation application more efficiently. Real-time display of distance-to-grade reduces time to final grade, helping you finish jobs quickly. Installed and calibrated at the factory, the Grade Guidance system arrives at your jobsite ready to work.
Engine
The EPA FT4/EU Stage IV engine employs field-proven cooled exhaust gas recirculation (EGR) for reducing NOX, and a diesel particulate filter and diesel oxidation catalyst to reduce particulate matter.
Ash-service intervals for the diesel particulate filter (DPF) are condition based, with the machine notifying the operator before service is required.
Highly efficient hydraulically driven fans run only as fast as needed, reducing noise, fuel consumption, and operating costs. The cooling systems keep things running cool, even in high-trash environments and high altitudes. Reversing option automatically back-blows cooler cores to keep them clean.
Controls
Ergonomically correct short-throw pilot levers provide smooth, predictable fingertip control with less movement and effort.
Push buttons in the right lever allow predictable control of auxiliary hydraulic flow for operating attachments. Optional sliding switch provides proportional speed control.
Productivity
Three productivity modes allow you to choose the digging style that fits the job:
High-productivity delivers more power and faster hydraulic response to move more material.
Power delivers a balance of power, speed, and fuel economy for normal operation.
Economy limits top speed and helps save fuel.
Visibility
New hood design, expanded front and side glass, narrow front cab posts, overhead glass, and numerous mirrors provide optimal visibility.
Serviceability
Swing open the side panels and you'll discover many of the numerous ways this excavator can minimize maintenance, increase uptime, and reduce daily operating costs.
Arm & Boom
A John Deere exclusive, three welded bulkheads within the boom resist torsional stress for amazing durability.
| MODEL | HP | LIFTING CAPACITY (LBS.) | OPERATING WEIGHT (LBS.) | MAX DIG DEPTH | MAX REACH | WIDTH | BUCKET SIZE (CU. YDS.) | ZERO TAIL |
| --- | --- | --- | --- | --- | --- | --- | --- | --- |
| PC78 / JD75G | 57 | 4,956 | 17,952 | 15'1" | 22'2" | 7'7" | 0.5 | YES |
| PC88 / JD85 | 57 | 6,597 | 19,244 | 14'10" | 24'9" | 7'3" | 0.5 | YES |
| PC130 / JD130 | 98 | 9,600 | 29,009 | 18'2" | 28'5" | 8'6" | 0.75 | NO |
| PC138 / JD135 | 101 | 9,430 | 30,620 | 18'4" | 26'8" | 8'2" | 0.75 | YES |
| PC170 / JD160 | 122 | 15,100 | 39,526 | 19'7" | 30'1" | 8'6" | 1 | NO |
| PC210LC / JD210L | 159 | 21,410 | 50,548 | 21'11" | 32'0" | 10'6" | 1.5 | NO |
| PC238 / JD245 | 159 | 23,500 | 56,170 | 21'9" | 32'6" | 10'6" | 1.5 | YES |
| PC240 | 177 | 18,950 | 56,360 | 22'8" | 32'10" | 10'9" | 1.5 | YES |
| JD300 | 223 | 26,750 | 69,223 | 25'10" | 36'5" | 11'1" | 1.5 | NO |
| JD345 | 245 | 35,500 | 78,710 | 24'10" | 37'7" | 11'1" | 1.5 | YES |
| PC360 / JD350 | 271 | 41,950 | 79,655 | 18'5" | 38'3" | 11'2" | 2.25 | NO |
| PC490 / JD470 | 367 | 42,920 | 112,916 | 27'2" | 40'3" | 11'11" | 3.5 | NO |
| PC650 / JD670 | 463 | 55,260 | 154,103 | 30'0" | 44'8" | 12'3" | 4.0-5.0 | NO |