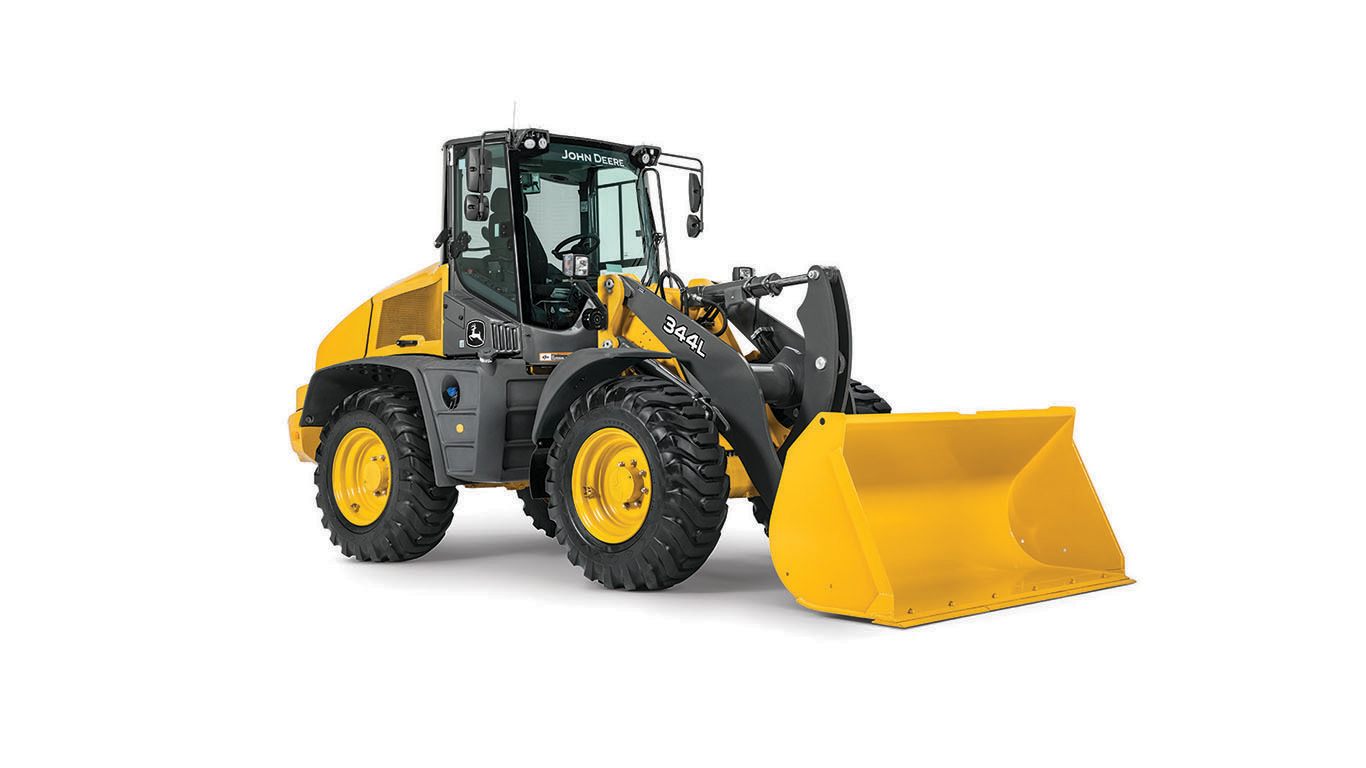 Features
Cab & Controls
Comfortable cab features better visibility to the loader arm and bucket and more ergonomic controls.
Rimpull control allows operators to adjust the machine to conditions, reducing tire and driveline wear.
Engine
Redesigned engine compartment and cooling package improve airflow and reduce the amount of debris entering the system.
Add a reversible fan for quick core cleanout in high-debris applications.
Productivity
Industry-exclusive Articulation Plus™ steering system delivers a greater full-turn tipping load, a tighter turning radius, and more stability than a standard articulation loader.
New loader-arm and coupler design delivers better load-carrying capability throughout the lift path. This keeps the load level from ground level to truck-bed height to full height— retaining more material in the bucket or on the forks.
| MODEL | HP | BREAKOUT FORCE (LBS.) | STATIC TIPPING WEIGHT (LBS.) | BUCKET CAPACITY (CU. YDS.) | DUMP CLEARANCE HEIGHT (FT.) | WEIGHT (LBS.) |
| --- | --- | --- | --- | --- | --- | --- |
| WA100 / JD244 | 64 | 16,298 | 10,714 | 1.4 | 8'4" | 12,060 |
| JD344 | 97 | 13,490 | 13,889 | 2.2 | 9'4" | 18,408 |
| WA200 / JD444 | 124 | 20,952 | 17,482 | 2.5 | 9'11" | 24,698 |
| WA270 / JD544 | 163 | 28,101 | 22,068 | 3.0 | 10'5" | 28,660 |
| WA320 / JD624 | 186 | 27,600 | 25,198 | 3.5 | 10'7" | 34,124 |
| WA380 / JD644 | 232 | 37,073 | 27,181 | 4.25 | 10'11" | 41,188 |
| WA450 / JD744 | 273 | 43,160 | 39,860 | 5.5 | 10'5" | 50,080 |
| WA500 / JD844 | 377 | 55,115 | 52,030 | 6.5-8.5 | 10'11" | 75,413 |