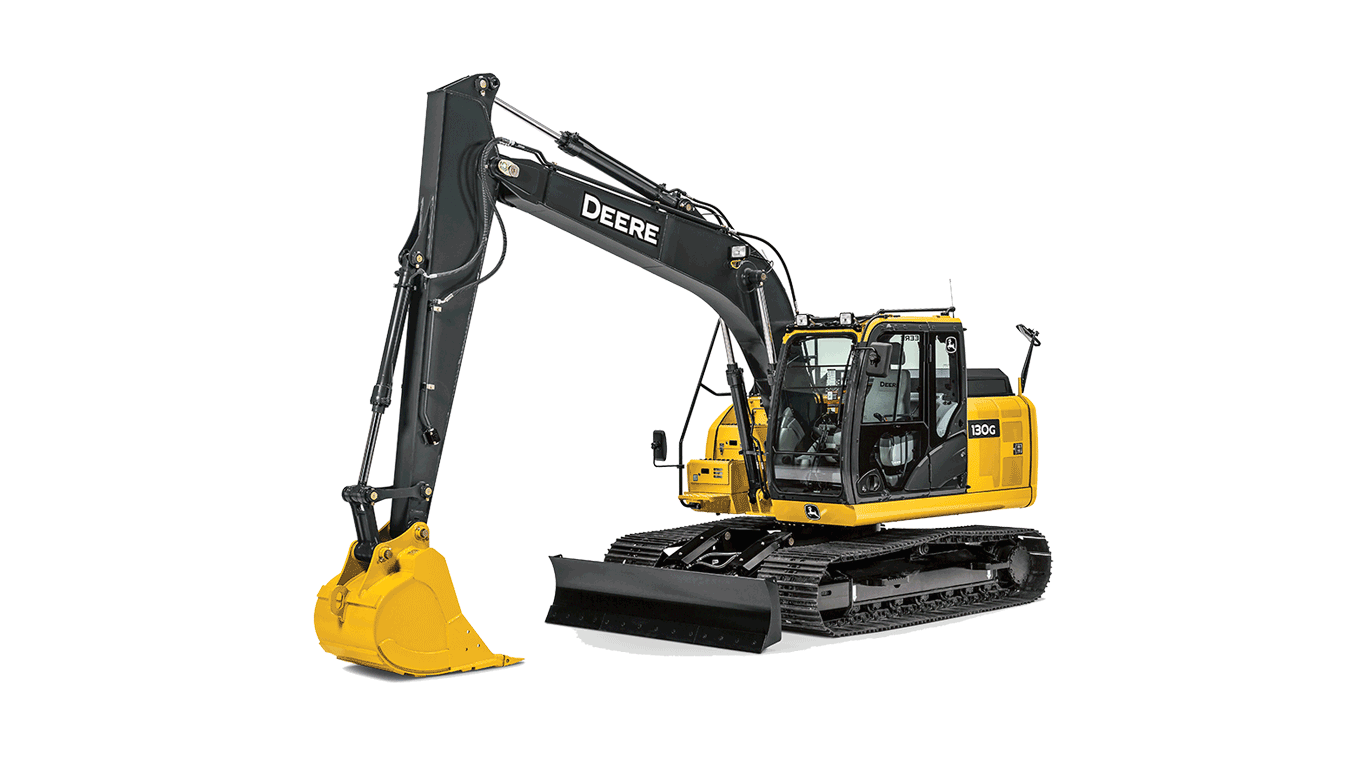 Features
Reduced tail swing design
Whether up against a wall or between a rock and a hard place, this close-quarter specialist makes it all look pretty easy.
Engine
FT4/Stage IV engine requires no diesel particulate filter (DPF). Extended service intervals help maximize uptime.
Highly efficient heavy-duty cooling system keeps things cool, even in tough environments or high altitudes. Cool-on-demand suction-type fan helps reduce material buildup and maintenance.
Controls
Ergonomically correct short-throw pilot levers provide smooth, precise fingertip control with less movement and effort. Optional sliding switch provides proportional speed control.
Press the power-boost button on the right-hand control for extra digging power. Power boost also kicks in automatically in boom-up/lifting functions.
Productivity
Three productivity modes allow you to choose the digging style that fits the job:
High-productivity delivers more power and faster hydraulic response to move more material.
Power delivers a balance of power, speed, and fuel economy for normal operation.
Economy limits top speed and helps save fuel.
Visibility
New hood design, expanded front and side glass, narrow front cab posts, overhead glass, and numerous mirrors provide optimal visibility.
Serviceability
Vertical spin-on fuel and engine oil filters are positioned for convenient and simplified servicing.
Large fuel tanks and 500- 5,000 hour engine and hydraulic oil-service intervals decrease downtime for routine maintenance.
Arm & Boom
A John Deere exclusive, three welded bulkheads within the boom resist torsional stress for amazing durability.
| MODEL | HP | LIFTING CAPACITY (LBS.) | OPERATING WEIGHT (LBS.) | MAX DIG DEPTH | MAX REACH | WIDTH | BUCKET SIZE (CU. YDS.) | ZERO TAIL |
| --- | --- | --- | --- | --- | --- | --- | --- | --- |
| PC78 / JD75G | 57 | 4,956 | 17,952 | 15'1" | 22'2" | 7'7" | 0.5 | YES |
| PC88 / JD85 | 57 | 6,597 | 19,244 | 14'10" | 24'9" | 7'3" | 0.5 | YES |
| PC130 / JD130 | 98 | 9,600 | 29,009 | 18'2" | 28'5" | 8'6" | 0.75 | NO |
| PC138 / JD135 | 101 | 9,430 | 30,620 | 18'4" | 26'8" | 8'2" | 0.75 | YES |
| PC170 / JD160 | 122 | 15,100 | 39,526 | 19'7" | 30'1" | 8'6" | 1 | NO |
| PC210LC / JD210L | 159 | 21,410 | 50,548 | 21'11" | 32'0" | 10'6" | 1.5 | NO |
| PC238 / JD245 | 159 | 23,500 | 56,170 | 21'9" | 32'6" | 10'6" | 1.5 | YES |
| PC240 | 177 | 18,950 | 56,360 | 22'8" | 32'10" | 10'9" | 1.5 | YES |
| JD300 | 223 | 26,750 | 69,223 | 25'10" | 36'5" | 11'1" | 1.5 | NO |
| JD345 | 245 | 35,500 | 78,710 | 24'10" | 37'7" | 11'1" | 1.5 | YES |
| PC360 / JD350 | 271 | 41,950 | 79,655 | 18'5" | 38'3" | 11'2" | 2.25 | NO |
| PC490 / JD470 | 367 | 42,920 | 112,916 | 27'2" | 40'3" | 11'11" | 3.5 | NO |
| PC650 / JD670 | 463 | 55,260 | 154,103 | 30'0" | 44'8" | 12'3" | 4.0-5.0 | NO |