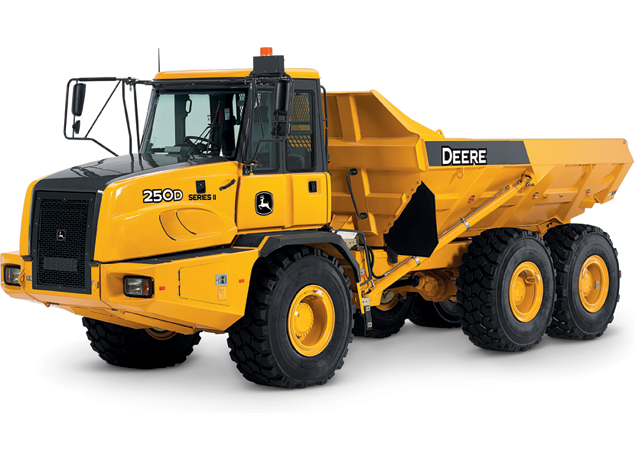 Features
Engine
Employs cooled exhaust gas recirculation (EGR), easily maintained exhaust filters, and selective catalytic reduction (SCR).
Onboard weighing system
Onboard weighing system displays the payload while loading and even illuminates mirror-mounted load lights to alert the operator and job superintendent when the ADT is nearing capacity. Load tonnage is also accessible through JDLink™, so you can monitor productivity from virtually anywhere.
Cab Comfort
Sealed and pressurized cab keeps out dust and noise. Adjustable air-ride seat provides maximum comfort.
Ground-Level Maintenance
Filters, diagnostic ports and hydraulic oil reservoir are easy to access. Many components that require regular greasing on competitive machines are maintenance-free on Deere machines.
Standard Tire Pressure Monitoring
Standard tire pressure/temperature-monitoring system helps maximum tire life and fuel efficiency. A passive alarm appears on monitor if pressure drops by 10 percent
| MODEL | HP | OPERATING WEIGHT (LBS.) | CAPACITY (LBS.) | CAPACITY (CU. YDS.) | HEAPED CAPACITY (CU. YDS.) | OVERALL WIDTH (FT.) |
| --- | --- | --- | --- | --- | --- | --- |
| JD250D | 265 | 40,344 | 51,150 | 13.7 | 18 | 9'3" |
| HM300 / JD350D | 285 | 42,990 | 60,186 | 16.5 | 21.7 | 9'7" |
| JD350D | 380 | 61,730 | 71,650 | 19.9 | 26.3 | 12'5" |
| JD370E | 422 | 67,862 | 78,947 | 21.3 | 29.1 | 12"5' |