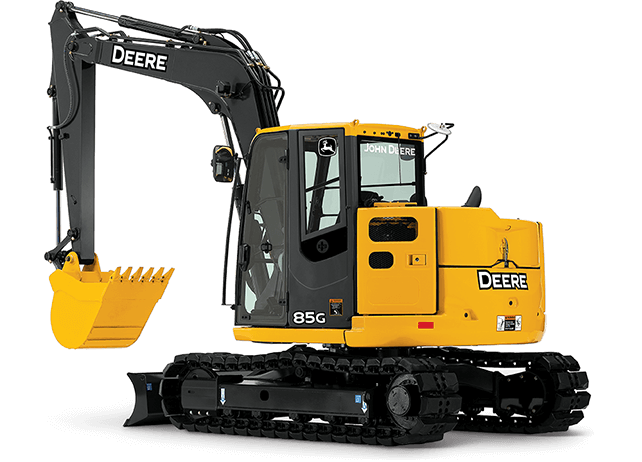 Features
Engine
The EPA FT4/EU Stage IV engine employs field-proven cooled exhaust gas recirculation (EGR) for reducing NOX, and a diesel particulate filter and diesel oxidation catalyst to reduce particulate matter.
Viscous fan continuously adjusts speed as necessary for effective cooling. Helps reduce noise and fuel consumption, too.
Controls
Ergonomically correct short-throw pilot levers increase control and minimize effort.
Productivity
Engine performance and hydraulic flow are perfectly balanced for predictable operation. Three productivity modes allow you to choose the digging style that fits the job. Select economy mode to reduce fuel usage and operating noise, while slightly limiting productivity. Select power mode for most normal conditions. Select high power mode to maximize productivity.
Visibility
Wide expanse of front and side glass, narrow front cab posts, large tinted overhead hatch, and numerous mirrors provide virtually unrestricted all-around visibility.
Visibility
Large hinged doors provide wide-open access to service items. Lube banks, filters, and checkpoints are grouped for added convenience.
Arm & Boom
A John Deere exclusive, three welded bulkheads within the boom resist torsional stress for amazing durability.
| MODEL | HP | LIFTING CAPACITY (LBS.) | OPERATING WEIGHT (LBS.) | MAX DIG DEPTH | MAX REACH | WIDTH | BUCKET SIZE (CU. YDS.) | ZERO TAIL |
| --- | --- | --- | --- | --- | --- | --- | --- | --- |
| PC78 / JD75G | 57 | 4,956 | 17,952 | 15'1" | 22'2" | 7'7" | 0.5 | YES |
| PC88 / JD85 | 57 | 6,597 | 19,244 | 14'10" | 24'9" | 7'3" | 0.5 | YES |
| PC130 / JD130 | 98 | 9,600 | 29,009 | 18'2" | 28'5" | 8'6" | 0.75 | NO |
| PC138 / JD135 | 101 | 9,430 | 30,620 | 18'4" | 26'8" | 8'2" | 0.75 | YES |
| PC170 / JD160 | 122 | 15,100 | 39,526 | 19'7" | 30'1" | 8'6" | 1 | NO |
| PC210LC / JD210L | 159 | 21,410 | 50,548 | 21'11" | 32'0" | 10'6" | 1.5 | NO |
| PC238 / JD245 | 159 | 23,500 | 56,170 | 21'9" | 32'6" | 10'6" | 1.5 | YES |
| PC240 | 177 | 18,950 | 56,360 | 22'8" | 32'10" | 10'9" | 1.5 | YES |
| JD300 | 223 | 26,750 | 69,223 | 25'10" | 36'5" | 11'1" | 1.5 | NO |
| JD345 | 245 | 35,500 | 78,710 | 24'10" | 37'7" | 11'1" | 1.5 | YES |
| PC360 / JD350 | 271 | 41,950 | 79,655 | 18'5" | 38'3" | 11'2" | 2.25 | NO |
| PC490 / JD470 | 367 | 42,920 | 112,916 | 27'2" | 40'3" | 11'11" | 3.5 | NO |
| PC650 / JD670 | 463 | 55,260 | 154,103 | 30'0" | 44'8" | 12'3" | 4.0-5.0 | NO |