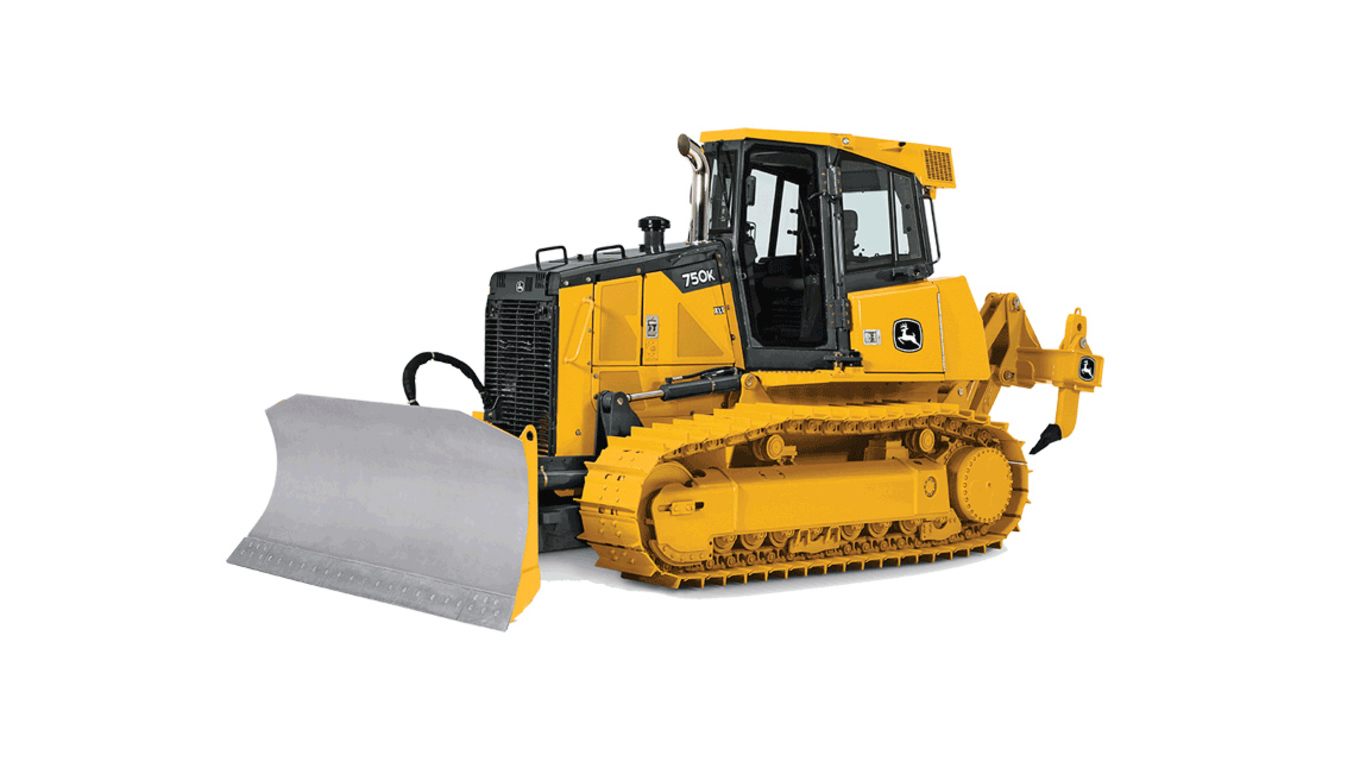 Features
Engine
Engine employs field-proven cooled exhaust gas recirculation (EGR), easy-to-maintain high-uptime exhaust filters, and selective catalytic reduction (SCR).
Standard Eco mode automatically adjusts engine power and transmission settings for fuel optimization.
Fully Integrated Grade Control
Grade-control system is fully integrated into the machine cabin, structures, and software – delivering precise grading performance while eliminating vulnerable external masts and cables.
Auto SmartGrade automatically raises the blade when heavier loads are encountered during rough grading to prevent stalling and track slip, enabling the machine to be used in all phases of grading.
Machine dimensions are preloaded into the grade-control monitor, reducing the time needed to calibrate to about 30 minutes.
Cab & Controls
Cab-forward design provides excellent visibility to the blade.
Enhance your operator's grading skills with ergonomic T-bar hydraulic control.
Exclusive Total Machine Control monitor allows operator to customize machine operation and response to personal preferences.
Simple Maintenance
Hinged engine side shields swing open wide and the front grille tilts forward for convenient access to dipsticks, fill tubes, batteries, master electrical shutoff, the backside of the cooler, and engine, transmission, and hydraulic filters.
Inertial Measurement Units (IMUs) are not located in the cylinders for easy access should service be necessary.
Hydrostatic Transmission
Infinitely variable range to 8.9 km/h (5.5 mph) gives total flexibility to match ground speed to the load.
Speeds up or slows down each track to provide full-power turns.
Counterrotation an operator to overcome heavy corner loads and quickly reposition the blade on the go. Provides space-saving spot turns, too.
Undercarriage
Maximum Life undercarriage features SC-2™-coated bushings, larger components and stronger seals for longer wear life compared to basic undercarriage.
| MODEL | HP | TYPE | WEIGHT (LBS.) | PSI | BLADE TYPE / WIDTH (IN.) |
| --- | --- | --- | --- | --- | --- |
| JD450LT | 70 | STANDARD | 16,283 | 7.32 | 6-WAY / 97" |
| JD550LT | 92 | STANDARD | 19,290 | 5.97 | 6-WAY / 105" |
| JD650LT | 104 | STANDARD | 19,599 | 6.1 | 6-WAY / 105" |
| JD750LT | 155 | STANDARD | 34,377 | 7.25 | 6-WAY / 128" |
| JD850LT | 187 | STANDARD | 42,538 | 7.68 | 6-WAY / 128" |
| D21P | 44 | LOW GROUND PRESSURE | 9,040 | 4.0 | 6-WAY 101" |
| JD450LGP | 70 | LOW GROUND PRESSURE | 17,525 | 4.4 | 6-WAY 115" |
| JD650LGP | 104 | LOW GROUND PRESSURE | 20,624 | 4.6 | 6-WAY 128" |
| D51P / JD700LGP | 125 | LOW GROUND PRESSURE | 31,240 | 4.1 | 6-WAY 132" |
| D61P / JD750LGP | 165 | LOW GROUND PRESSURE | 37,595 | 4.2 | 6-WAY 156" |
| D65P / JD850LGP | 205 | LOW GROUND PRESSURE | 47,805 | 4.6 | 4-WAY OR 6-WAY / 168" |